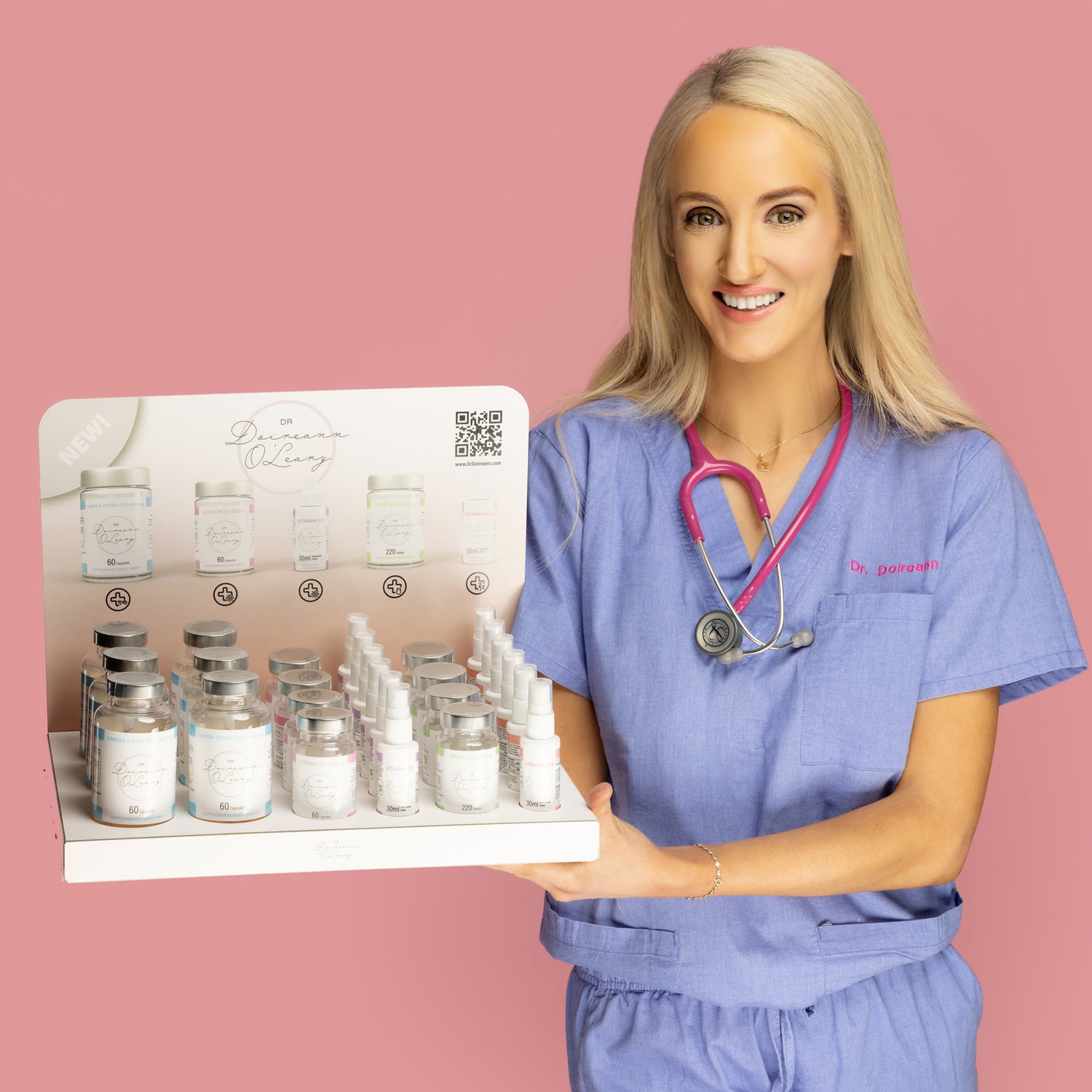 Dr. Doireann O'Leary, MB BCh BAO MICGP
Dr. Doireann O'Leary, MB BCh BAO MICGP, is a GP in Cork City. She graduated with an honours degree in Medicine from University College Cork in 2011. She is passionate about women's health and general practice. Dr. Doireann is a LARC (long acting reversible contraception) provider and registered cervical smear taker. She is also a lecturer at The University College Cork School of Medicine. She also contributes regularly to the media with regular slots on The Last Word on Today FM and The Today Show on RTE 1. She loves to share her passion for health and wellbeing through her social media channels and her podcast, "Dr. Doireann's Podcast".
Why I developed this range

I developed this range to help people to get a real health benefit from their daily supplement routine. There's so much information online about various supplements, a lot of which have no meaningful health benefit and some of which have the potential to cause significant harm. The amount of information online can be overwhelming. It's hard to see the wood from the trees. I meet patients everyday who are taking supplements they don't need and missing out on the key supplements they do need. I've never met a patient who takes a multivitamin who knows exactly what's in it. This is what inspired me to develop this range. There are four key supplements that I recommend and which I take myself everyday; Vitamin D, Folic Acid, Vitamin B12 and Omega 3 Fatty Acids. Supplements don't have to be confusing or complicated; that's why our tag line is "Supplements Made Simple". 

This range is developed personally by me for you and your family. I don't have any supplements in my range that aren't scientifically proven to improve your health and I never will. I'm passionate about educating people on their health and empowering them to take positive actions towards a healthier lifestyle. The foundation stone of this range is scientific evidence. On top of that is what I've learned by listening to the real life experiences of patients on the frontline for the last 16 years.I've learned that patients are confused and overwhelmed, often taking supplements they don't need, missing out on the ones they do need and sometimes even taking supplements that are causing them harm. This range is a part of my own daily healthy routine; I know that these supplements are scientifically proven to benefit my health. I want you and your family to enjoy those benefits too.